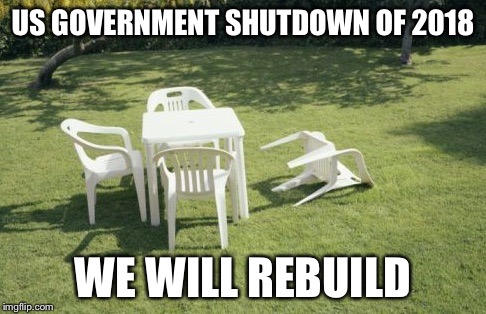 The Schumer shut down ends with a whimper as the Democrats fold.
Holding the government hostage over DACA really wasn't a winning strategy.
The Dems have traded in the ephemeral and illusionary advantage of shutting down the government in return for a promise that the Senate will take up Legislation on the 700,000 potential New Democrat voters illegals currently under the DACA program.
Senate breaks Dem filibuster, clearing way to end government shutdown
I suspect the polls showed their Shutdown was not having the effect they wanted, and Trump's rather artful emphasis of making the shutdown as painless as possible, as opposed to Obama having made it as painful as possible really detracted from their attempt to hold the government hostage to the DACA demand.
If the Republicans in the Senate had any gumption, when they bring DACA and introduce the bill, then they should say "Ok we've now considered your request to bring it up and we decline to acquiesce to your request to pass it" and then vote it down without further comment.